Aftercare in the Private Sector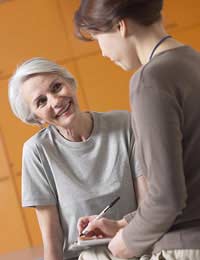 When a person needs some form of medical treatment the most important issues are finding the right doctor for the job and actually having the procedure carried out.
Many people however do not give much thought to the aftercare they might need following an operation or minor procedure and may be worried about these issues after the treatment has been performed.
What Happens After an Operation?
Once you have had your operation you will be transferred to the recovery room where you will be assessed and monitored for any post-operative complications and pain. Once the staff are happy that you meet the criteria needed to be sent back to your own room a ward nurse will come and collect you.
In the hours or days after your procedure you will be monitored closely for any complications or issues that arise before you are assessed for your suitability for discharge.
Depending on the nature of the operation you have had will determine when the staff discharges you. If for instance you have had an operation on your musculo-skeletal system, it may be necessary to see a physiotherapist first in order to be taught some appropriate exercises that you can do to help regain your strength and ability but also to assess how well you will manage after discharge.
The ward staff will also determine whether you need additional help at home or any post-discharge care. If it has been found that you will need some additional support at home this can be arranged alongside your GP and district nurses or occupational therapists can intervene and help in any way they can.
Are Post-Discharge Carers Or Specialists Paid For From Insurance?
In most cases the costs of using these agencies will be covered by the NHS. Many post-operative private patients that need input from nurses for events such as suture removal or drain removal will be employed by the Primary Care Trust and hence the NHS.
It is important to make sure that you are fully aware of what is included in your healthcare policy or in the one-off payment you have given to the healthcare provider as some may include post-discharge care to some degree whilst others do not. Each insurer will have their own individual policies which may vary a lot from other providers.
Generally the higher your premium the more is included and follow-up appointments and home care may be included. For those paying a basic premium this is unlikely.
Medicine & Pain Relief
As with any form of surgery you will probably be offered some take-home medications that you will be given before you are discharged. These medications are almost always included in your invoice and do not incur extra costs. If you require additional medications after discharge, you will need to see your GP who will give you a prescription if deemed necessary.
Follow-Up Appointments
Most patients will be required to attend a follow-up appointment once they have been discharged. The medical team has a responsibility to make sure that you are happy with your treatment and that it has all gone as planned.
These appointments may take place in the out-patients department of the hospital where your initial treatment was carried out, at your own GP surgery that will then send a letter to your treating consultant or in the nearest NHS out-patients department that treats the relevant speciality. In fact many of the doctors working in the private sector (particularly surgical ones) are employed in the NHS as their main employment.
You might also like...