Private Health and Hospital Acquired Infections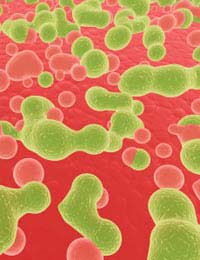 Hospital acquired infection rates have increased rapidly over the past few years and the government has invested millions of pounds in the fight against these potentially deadly infections.
Anyone who goes into hospital is at risk of developing such an infection and precautions must be taken by patients, visitors and staff to try and help eliminate these conditions and maintain optimal health and healthcare for all patients.
What Are Hospital Acquired Infections?
Hospital Acquired infections (HAIs) are infections that develop whilst the patient has been admitted and were not apparent or part of their original condition that they are being treated for.
The infections may be bacterial, viral or fungicidal in nature and patients are particularly at risk as they are compromised in some way because of illness, weakened immune systems and medical interventions and operations.
The most commonly known and familiar HAI is called MRSA (Methicillin Resistant Staphylococcus Aureus) which is a bug that has developed a resistance to part of the anti-biotic group of drugs.
Are They Serious?
In patients with wounds or weak immune systems they can be very serious indeed as the body cannot fight the infection in the same way as a person who is not ill or wounded. Couple this with the infection being resistant to some of the anti-biotic drugs and the problem is clear.
How Are They Treated?
The best way to try and tackle the problem is to treat the affected area. For example if a wound drain or catheter is the site of infection it item should be removed. Strict hygiene guidelines must be adhered to, to try and prevent the infection spreading to other areas.
The administration of other anti-biotic drugs that the bug is not resistant to, can help as long as it does not become resistant to this also. These drugs can be expensive and cause a higher level of side-effect than the more common ones.
Aside from treating the patient, it is vital that the infection does not spread to other patients. Staff and visitors must be rigid in their hygiene practices and it is normal to have to wear gloves, masks and other protective clothing when caring for the infected patients who will be nursed away from the other patients.
Are Private Patients at Risk of Hospital Acquired Infections?
Like any person who is compromised those being cared for in the private healthcare sector are at risk from HAIs.The risks are often considered to be lower as there is not such a high through-put of patients meaning the risk of it spreading are less. The patients are not sharing a ward and the ratio of staff per patient tends to be a lot higher meaning the chances of cross-infecting patients by staff is a lot less.
However, a lot of the time the staff and visitors may be responsible for the transmission of the bugs and as many of the work in both NHS and private settings, the risks are still there.
If you are concerned about your healthcare and the risks of developing a hospital acquired infection and are due to be treated for a medical condition, please do speak to your hospital customer service, your insurance provider or your consultant who will be able to provide the incidence rates in your chosen hospital allowing you to decide if you want to consider other locations.
Hospital acquired infections are a serious threat to modern Britain and the government is constantly trying to implement changes to lower the risk. Scientists and doctors are also very busy developing and trialling new drugs to treat these infections successfully.
The chances of developing one of these infections in the private sector is still a lot lower than that in the NHS but there is still a recognised risk.
You might also like...