Paternity Testing in the Private Sector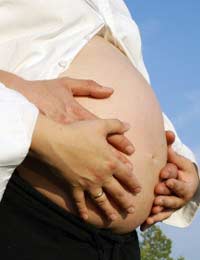 Paternity testing is now done almost exclusively on a commercial basis and can be arranged through your GP, through a private health practitioner, or directly with the company responsible for the DNA testing. Many tests can be carried out partly at home – the samples needed to establish paternity are cheek swabs that need to be taken from the child concerned and the suspected father. Ideally, the mother's sample should also be included, but this is not necessary to prove or disprove paternity.
How are Samples Taken for Paternity Tests?
The procedure to obtain enough DNA to enable the test to be done is quick and painless. You can do your cheek swabs or a GP or a health professional in a private clinic can do it for you. This is usually required if the test results are going to be presented as part of a court case to prove paternity legally.
A cotton swab is used to rub gently on the inside of the cheek, in the mouth, to remove a few cheek cells. The nuclei of these cells contain enough DNA for the test.
How are DNA Samples Tested?
The swabs are then sent off to a private company that specialises in DNA testing. The lab then unpacks the swabs in carefully controlled conditions, extracts the DNA, amplifies it and then runs tests to look for DNA markers in each sample. To prove paternity, there must be clear similarities between the results of the father's DNA and the results obtained with the child's DNA. If two people are unrelated, none of the DNA matches at all well, so the results are usually clear cut.
For legal reasons, the test results never say definitely that a man is the father, but they can say definitely that he is not. Usually, the accuracy is regarded at over 99%.
What Costs are Involved in Having a Private Paternity Test?
The costs vary depending on whether the test is required for use in a legal case – this can increased the cost of an individual test to about £400 but if this is not needed, a straightforward, personally commissioned test can cost under £180.
Why Do People Have Private Paternity Tests?
There can be many reasons; relationships can get very complex and sometimes a mother is not sure who the father of her child is. If the potential fathers agree to a test, this is the simplest way to find out. It isn't possible to do a test 'secretly' as it would be pretty obvious why you were asking someone to do a cheek swab. Also, the test results are only considered valid if each sample is taken with the consent of the person giving that sample. If a child is too young to understand, then the mother (but not the suspected father) may give her consent for DNA to be taken.
The advantage of private paternity tests in these cases are that, although dealing with the emotional aspects might still be very uncomfortable for all concerned, at least the matter can be kept private within a small circle of people. There is no need to explain to the private company doing the test why you need it to be done. The process is quick, painless and highly confidential and your results will not be shared with any third party.
Private Health Advice is sponsored by Purely Energy, who have funded a lot of our content. If you are looking for a low cost business energy supplier, take a look at their website.
PRIVATE HEALTH ADVICE IS FOR SALE.
This website is for sale [more info].
You might also like...