Trade Unions and the Private Sector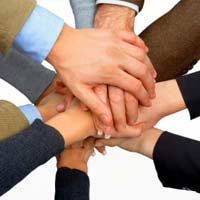 Trade unions are invaluable organisations that continually try to negotiate better terms and conditions for employees, intervene when staff believe the treatment they are receiving from employers is unacceptable and can intervene and provide advice and legal services for employees when issues arise.
Trade unions act as a voice for the employees and often take on the role of challenging and updating contracts and conditions for members. They can also assist on legal issues, often not only pertaining to work problems and can help individuals with cases such as harassment, bullying and unfairness.
Union Members
Union members are almost always employees who are currently working or have worked and understand the problems today's working public may face.The meet regularly and discuss and negotiate with employers on issues such as hours, payment, holiday entitlement, policies and procedures and complaints procedures to name a few.
Union leaders are elected by existing members using the voting system.Those people wishing to become a union leader should be very certain of the role they will have to undertake and the time commitments needed as it can be a very challenging duty.
Union Fees
Employees who wish to be guaranteed advice and support from their chosen union will have to pay a union membership fee. This is often deducted from your month's salary though it is possible to pay it on an individual basis.The union will then issue you a membership number and contact details of all the departments that you may need to contact in the future.
The Role Of The Union In The NHS
As the NHS workforce is so vast employing thousands of staff throughout the country, the union must play a very active role both as a workforce and on individual levels.They aim to standardise conditions for employees and will negotiate with employees, managers and even at government level until an agreement can be reached.
Employees can decide which of the unions they join if any but it is advisable that they select a union with a leader working in their region in case they need to contact them and ask them to intervene. Those members who do not have a representative close by, may be at a slight disadvantage to those that do.
The Role Of The Union In The Private Sector
The role of the union in the private sector is not as apparent as it is in the NHS as employees in private hospitals often do not face the same battles and challenges to those of the NHS. Pressures and demands on staff tend to be different between the two groups.
Privately employed staff can still become union members as they will need a common voice at some point in their career as the private sector and the NHS are becoming increasingly intrinsically linked to each other with patients from both sectors being treated in both arenas.
Staff in the private sector also tend to have a better employment package with features such as their own private health insurance, better over time rates of pay and a better shift pattern structure.
Trade unions are very important organisations that act as a negotiating team for staff members, especially those staff working in the medical and public sectors. They are also able to provide legal advice and find suitable representation for staff when needed and appropriate.
You might also like...