Health Insurance & My Battle With Lung Cancer: A Case Study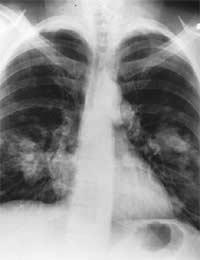 Richard loved his work as a senior accountant in a large financial house in London. "I even enjoyed the commute and the salary package and benefits meant we had no money worries and a lovely house in Guildford," says Richard, who sits in the conservatory of his home looking out on the well-tended garden. Richard doesn't make the commute to his office any longer and he looks gaunt and thin, and his voice crackles with emotion.
Four months ago, after having what he thought was a viral cough for months, he had some tests and received the shocking news that he had an advanced form of lung cancer. "I couldn't believe it – I still can't. I am only 38 and I had just expected to carry on building my career before retiring gracefully and having grandchildren," says Richard, gripping his wife Jackie's hand tightly.
An Uncertain Future
The couple has two young children who were away at boarding school. "After what the doctors were saying to me had sunk in, we made the decision to enrol them at the local school this year – a private education is a great thing but we need to spend whatever time we can together now," says Jackie.
The prognosis for Richard, who has never smoked and has no other known risk factors, is not good. The cancer is highly aggressive and had taken over a large proportion of his left lung and had spread to his liver.
Insurance and Some Peace of Mind
Initially within the NHS system, Richard was asked if he had private medical insurance as the hospital he would be going to for therapy offered treatment in association with private healthcare. "I knew I had some sort of insurance through work and when I checked I found it was very comprehensive. It has taken some of the worry away as everything is covered and I haven't had to wait at all. I think cancer treatment is now exceptionally good within the NHS anyway, but with the rate at which my cancer had developed, even a few days may have made a difference," says Richard.
The insurance made sure that Richard was seen within days by a leading expert of his fairly rare form of lung cancer and his treatment, which began with surgery, was arranged the following week.
Richard's employers have also been very sympathetic and have accepted that he will not return to his job but have offered to keep him on full salary for the rest of his life. His pension will then go to his wife, who will be left to bring up their two sons alone.
The Latest Treatments
"One other advantage of my private health insurance has been that I was able to get an experimental, very expensive drug and travelled to Switzerland for chemotherapy with it a couple of months ago," says Richard. This was done at the same time as radiotherapy and followed the gruelling operation done in London to remove one of Richard's lungs and a quarter of his liver in the hope of removing most of the cancer. For the moment, Richard is in a period of remission and he is happy that he might have gained a few extra months of precious time with his family.
"One thing I regret is that I didn't spend enough time with the boys when they were tiny – my job, my marriage and my life generally has been the best. My company even offered me paternity leave but I cut it short. That was a big mistake but I am now spending every minute I can with them – not being miserable – but just loving talking to them and listening to them. I wish I had longer but as the days pass, I am accepting things as they are. What else is there to do?" asks Richard.
You might also like...