My Private Allergy Test Showed I Was Allergic to Gluten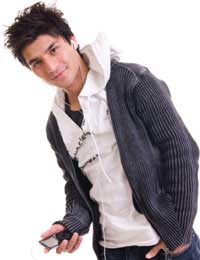 Jake, a tall and gangly 15-year old is looking fed up because his friends have gone off to the cinema and MacDonald's and he is sick of being the odd one out. "I can't eat junk food now, and going out with my friends just leads to a load of explanations," he says. Jake is in the difficult period of having to adjust to a diagnosis of gluten allergy just three weeks ago.
"Jake was always a difficult eater and was a very 'sicky' baby and this carried on as he started school. I didn't really worry as it didn't seem that abnormal but as he got older, Jake would often complain about his stomach feeling really big inside and he was either constipated or he had diarrhoea," says Linda, Jake's mum.
Battling with the GP
When Jake was 10, his parents made a concerted effort to find out what was at the root of his symptoms as he was starting to lag behind other kids of his age in terms of growth. "He was always pale and ill and not very active and it really started to worry us," says Linda.
Several appointments with their local GP didn't really get them anywhere and time passed by. "We saw a dietician who recommended that we try to increase the amount of fibre that Jake ate and we were just told not to worry – he probably had a mild form of irritable bowel syndrome," says Linda.
For a while, as Jake started secondary school, the symptoms seemed not to be as bad but, as it turned out, Jake just stopped telling his parents about how he felt. "I hated going to the doctor and having mum and dad sit there and try to convince him that there was something wrong. He obviously didn't believe it," says Jake.
Going Private
Three months ago, however, things came to a head when Jake collapsed at school and had to be taken home. Tests with the GP showed he was anaemic and needed iron tablets. "We were just told to buy them from the chemist and we decided that this was just no good. We paid for an appointment at the local private hospital to see the gastroenterologist there and he did a thorough examination," explains Linda. Skin tests for various allergens were carried out as part of the examination and the consultant then recommended a further test as he suspected coeliac disease – gluten allergy.
Gluten is the protein that is present in wheat and wheat products. Some people have an allergy to gluten that causes the immune cells in their intestine to react violently against it, causing local inflammation. This can damage the intestine, causing ulceration and bleeding. It also causes an autoimmune reaction, in which the body reacts against its own tissues, causing further damage. A blood test confirmed that Jake had antibodies to the protein components of his own intestinal cells.
Gluten Allergy is Confirmed
"When the test was positive we had a mixed reaction. On one hand we were relieved that we knew what the problem was – on the other hand, we were then worried about the future and how serious things were," explains Linda. Jake was then booked in for a biopsy in which a small sample of his small bowel was removed to be looked at in the histology lab to make sure that the diagnosis was correct. That result was also positive.
"Fortunately, Jake has a relatively mild form of the disease – like most things, there is a spectrum and he is one of the luckier ones. The only treatment that is available for him though is to avoid gluten in what he eats for the rest of his life. For the time being, he has also got to avoid dairy products and soy products, which could make it all worse," says Linda.
Adjusting to the New Diet
For the time being, Jake is on a strict diet to allow his intestine to heal fully and to resolve his symptoms. For the future, the private consultant has recommended that, if all is improved in six months time, that Jake could try taking the enzyme product Glutenzyme. In mild cases of gluten intolerance, taking this enzyme can help someone eat a relatively normal diet, perhaps eating out occasionally without experiencing relapse.
You might also like...