Getting a Referral to the Private Sector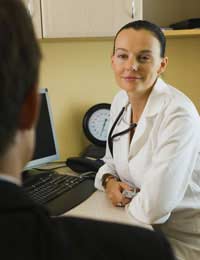 It may be all well and good knowing that you have private healthcare insurance, or are comforted by the fact that it exists on an ad hoc basis whenever you should need it, but what happens when you actually want to be referred to a specialist in the private sector?
There are different ways in which this issue can be approached, and the different methods may be suitable for different types of health problems or be dependent on the person's circumstances.
Referral From a GP
For most people, especially those who have private health insurance this is the most common way of addressing the subject.It may be that you have just been diagnosed with a health problem and want to discuss you options with your GP. Most GP's will be familiar with which doctors in your region offer private services or who is the most suitable doctor for your illness or complaint.
When you visit your GP to talk about your illness, receive test results or book surgery or treatment, you may want to use this opportunity to discuss whether it would be suitable to have your treatment performed privately.If it is suitable as it is in many cases your GP will be able to write the appropriate letter to the most suited doctor or health establishment and you will hear from them in due course.
If you have private health insurance, you must inform them of what has taken place, the times, dates and names of who you spoke to as this will all need to be recorded so the correct procedures for invoicing are carried out.Depending on who you have your insurance with may also dictate which hospital is responsible for your treatment.
Several of the well known private sector healthcare establishments may be ultimately in charge of your health insurance policy, but for others the insurance may be provided by an independent company.
Self-Referral
Many people who are considering having their treatment provided by the private sector may wish to contact the hospital or healthcare provider independently. This is very common for those seeking cosmetic treatments. There are several helplines and information lines that can be telephone in order to find out which hospitals and providers offer the type of treatment you are seeking. These telephone numbers can be found easily in telephone directories, on the internet, from leaflets, magazines, newspapers and other forms of media.
Once you have made the initial phone call, the process of selecting the treatment required the establishment that can provide it and who you will need to speak to next will be started. You are not obliged to follow through with the treatment at all and can change your mind at any stage though you may still be charged for any consultations or paperwork that has been completed thus far.
Referral Through Your Insurance Company
For those who have private health insurance, it may be the most beneficial and faster route to contact your insurance provider who will be able to take-up your case and make the necessary referrals to the appropriate doctors and begin the process. The contacts you will need are often sent to you with your policy so it is important to keep this information handy for ease.
Anyone can receive private treatment for many illnesses and treatments and there are several channels that can be explored in order to find the most appropriate referral.If you have your own insurance you will often need to contact your provider or go through your GP, for others it may be necessary to contact a private healthcare provider directly.
You might also like...