I Had Addiction Treatment in Thailand: Case Study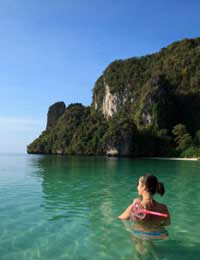 After denying that she had an alcohol problem for several years, and after many fruitless attempts to stop drinking, or at least cut down, Janine realised that she needed to take action. "I was in a downward spiral; I would wake up in the morning feeling tired and groggy after drinking a bottle of wine – or more – the previous evening, stagger through the day and then be desperate for a drink by 4pm in the afternoon. On good days I managed to hang on until after I got home from work but on bad days I would leave early complaining of a headache and head for the nearest pub and then get a taxi home," she remembers.
Janine had managed to pretend things were OK but when she was tempted to start taking a snifter flask filled with vodka into work with her, she knew that things had gone too far. "I checked out private addiction treatment in the UK but it was really expensive and I felt like I needed a complete break from work, friends, demands of owning a house, the whole thing. Instead, I decided to head out to somewhere I had always wanted to visit – Thailand," she says.
Private Addiction Treatment in Thailand
To her surprise, Janine found that a specialised addiction clinic in Thailand had a very extensive website describing its facilities and she decided to use the money she had put aside for a holiday and for a 'rainy day' to book a month long trip to Breathing Space. "I had been thinking of having some money if I was made redundant but I thought that it was more important to sort out my health. I was likely to lose my job because of my alcohol problem, so the time was right to spend this nest egg," she explains.
Within 6 weeks, Janine had arranged for the extra unpaid leave from work, tickets were booked and she headed out, a little apprehensively. "It was just as well that there was an alcohol limit on the plane, or I would have drunk it dry!"
Breathing Space in Every Sense
Once at the private addiction clinic, Janine realised that this was the place to make some progress. "It was a fantastic location, with my own private villa, pools everywhere, flowers and spa facilities, lovely food and a daily programme of relaxation, yoga and counselling. Of course, no alcohol, which was hard for the first few days," says Janine.
With the constant support Janine started to see that she had to take control back of her life, rather than let it be taken over by her need to take the next drink. "This was a turning point in my life – it has not been easy since but just thinking back to the time I spend at Breathing Space in Thailand gives me something to hang on to when I feel really bad. I have been alcohol-free for nearly ten months now and I am feeling better physically. I know I can't slip backwards," she adds.
Follow up Care and Repeat Treatment
As well as having the active treatment for her alcohol dependence, Janine also had time to explore the local area, visiting a hill tribe village, going elephant trekking and sightseeing with a guide in the local countryside. "We did yoga and tai chi outside looking at the mountains, which was magical," she recalls.
Once back in the UK, Janine got help from a personal counsellor who liaises closely with the Thai centre to provide support whenever she needed it. "It was hard coming back to normal life, but this continued support was a great help. I have now booked to go back to Thailand – only for two weeks this time – and I am counting the days. My flight leaves in 9 weeks! This time, the first few days won't be such a blur and it is a real incentive for me to stay sober and away from alcohol so that I can make the most of every minute I am there. Every alcoholic will tell you that you are only one drink away from disaster – my Thai experience means that that first drink is much easier to resist."
You might also like...