I Went Private to Have My Varicose Veins Stripped: A Case Study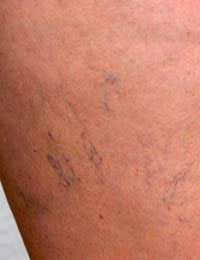 Booking a holiday this year has been less stressful than usual for Suzanne as she has just had the choice of so many hot and sunny places and is looking forward to her first beach holiday for years. "I love lying around in the sun, either on the beach or by the pool; it's my perfect idea of relaxation," she says.
Since her children were young, however, the family have stuck to UK holidays, or gite holidays in France. "At the start, this was more convenient because there wasn't so much travelling involved – I know people jet all over the place with kids now, but I was never that brave really. Later, as they became teenagers they were really keen to go but by then, my legs got in the way," says Suzanne mysteriously.
Varicose Veins Become a Problem
Over the years, Suzanne developed very thick, dark and obvious varicose veins in her calves, making the idea of wearing shorts or a swimsuit completely impossible. "I took to wearing long skirts, dresses and thin linen trousers in the summer, never even venturing into crop trousers or Capri pants," she admits.
Terribly self-conscious about her legs, Suzanne also stopped going swimming and cycling. "I then put on nearly two stones in weight, which made the varicose veins worse and my self confidence plummeted still further," says Suzanne.
A Chance Meeting
At a summer BBQ two years ago, Suzanne had gone along with her sister, whose husband was away with work in Saudi Arabia. "She was fed up of not having a social life so I agreed to go but it was in high summer and I was very aware that everyone else was in shorts and skimpy tops and I felt like a galleon in full sail with a long floaty top and wide bottomed, long trousers. I must have looked fed up but I did try to join in. I started having a conversation about insect bites with another woman who was there and we got on really well. I was stunned when she told me she was a plastic surgeon..." remembers Suzanne.
After several glasses of wine, and feeling relaxed in the warm evening, Suzanne confided in the surgeon about how much she would love to lose weight and wear nice summer clothes again but was held back by her varicose veins. "She immediately wagged her finger at me and told me that all that was holding me back was myself – she said that I should do two things in the next two days; join a diet club and go and see my GP for a referral to her for my varicose veins stripped. I was fairly gobsmacked as usually this sort of direct command doesn't come from complete strangers at parties," laughs Suzanne.
Taking Action
The next day, the more Suzanne thought about the conversation, the more she realised that Juliet, the surgeon she had met, had been right. "Luckily it was Saturday and I had nothing to do urgently, and didn't have to go to work, or I might have put it off. I plucked up courage and called up three local slimming clubs and booked to start on one of their classes the following week. As we now have an internet appointment system with the local GP now, I also went online and booked myself in for one night after work the following week," she recalls.
Three Months Later...
After losing a stone in weight, Suzanne felt much more confident but was still filled with trepidation as the day to go to the local private hospital came. "They had explained what would happen and it does sound horrible. Varicose vein stripping is not a glamorous form of cosmetic surgery. The offending veins are literally stripped out by making a cut at both ends and then hooking out the knobbly vein. I was to have a 2-hour session, with one leg done first, and the other a month later," explains Suzanne.
All went well, there were no complications and Suzanne was back at work within days. "I had started exercising again and had a vague hope of shorts eventually but I couldn't believe the effect on my legs two weeks after the first treatment. My varicose veins were gone and my legs looked young again – I was delighted," she says.
Varicose Vein Free
Fast forward to today and Suzanne has managed to reach her goal weight, losing two stone and has maintained this now for 8 months. "I can wear shorts, swimsuits, and show off my regained figure and my legs – so I have booked two weeks at a hotel complex in Lanzarote for the end of the summer. I am going to make the most of it," she says.
You might also like...