I Had My Baby's Stem Cells Banked: A Case Study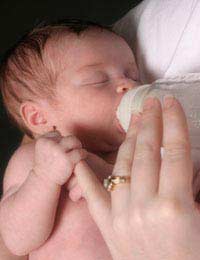 When Alicia gave birth to Zack last July, something unusual happened. She requested that his cord blood should be saved and donated to a cord blood bank. Her request was accepted and Zack's cord blood is now being stored to help people with severe leukaemia. "The idea was not to store Zack's cord blood to help him in the future in a 'just in case' sort of move – it was to help the thousands of people every year who definitely will benefit from the stem cells that can be extracted from donated cord blood," she explains.
A Shortage of Cord Blood Banking Facilities
When she was pregnant, Alicia came across several articles about cord blood banking in America and decided to research it further. "I had to stay away from work from when I was 6 months pregnant, because of high blood pressure. I didn't need to go into hospital, fortunately, but I had plenty of time on my hands, 'resting', so I used my laptop a lot," she says.
Alicia read that baby's cord blood can be stored for his or her own personal use in the future – but at a huge cost. "I didn't want some sort of expensive biological insurance policy – I wanted to stop a hugely valuable resource just being thrown away when it could go to help people in real need," she explains. Alicia found out that there is only one central NHS Cord Blood Bank, set up by the Anthony Nolan Trust and it collects cord blood from only five different NHS hospitals and several dozen private hospitals. These are mainly in the south east. "I thought there would be no hope but I asked at my next routine appointment and, amazingly, the private hospital where I was giving birth was one of the centres in the donation scheme. I was thrilled!" she laughs.
Cord Blood Thrown Away
Sadly, most of the cord blood produced in the umbilical cords of babies born in the UK is simply thrown away because there is no network in place to organise its collection and storage. The resources of the Anthony Nolan Trust are not sufficient to expand the scheme at the moment and calls for the government to put their support behind a national cord blood bank have fallen on deaf ears.
"This is a shame because more mothers are becoming aware of the usefulness of cord blood and there would be a large uptake if the scheme was spread further through the UK," says Alicia.
What Use is Cord Blood?
Cord blood from the placenta that supplies a baby with oxygen and nutrients during its time in the womb is rich in stem cells. Stem cells are undifferentiated 'master cells' that can be pushed to form any type of body cell. They are very useful in treating leukaemia and other blood cancers, and intensive medical research is finding new applications for treating other cancers and diseases.
The Birth Goes to Plan
On the day that Alicia went into labour, her waters broke at 5am in the morning. "I didn't think there would be a rush but as I stood in the kitchen making some sandwiches for my husband to bring with him, I started to feel the contractions coming every minute or so and I abandoned buttering the bread and we made a dash for the hospital – Zach was born exactly 45 minutes after we got there," she says.
Initially, Alicia and her husband Tom were worried that the speed of the delivery would prevent the cord blood being taken, but everything was prepared and when the placenta was delivered it was immediately put on ice and taken away. "I was given an injection of hormones, which is a normal part of the labour anyway, and it came out within a couple of minutes of Zach. I had other priorities by this time, but Tom made sure everything was done," she says.
Campaigning for a National UK Cord Blood Bank
Both Tom and Alicia are pleased that they have managed to save a precious resource that could help save lives and have both started campaigning by writing letters and emails to their local MPs to get more interest in formalising a cord blood bank. "People can store their own baby's cord blood by paying a huge fee to a private bank – maybe some of those profits could be used to fund a national system," she suggests.
You might also like...