I Had Laser Eye Surgery in Hungary: A Case Study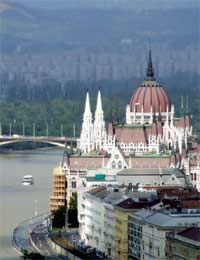 Pam, a 52-year old flight steward was so tired of not being able to read paperwork, including boarding cards because of the usual long-sightedness that develops in middle age that she decided to opt for laser treatment.
"Reading glasses are perfect if all you do is sit down and read. I was constantly on the go and was totally fed up with putting my glasses down and forgetting where they were. I tried having them round my neck, but they would catch on things and were not exactly in line with aircraft safety," she laughs.
Although she could have had an eye laser treatment in the UK, she hesitated because of the cost. "With two children at university, I don't have a lot of spare money," she says.
A Hungarian Connection
In conversation with a colleague one day, Pam mentioned needing to save up for her laser operation and one of the pilots on her next flight joined in. His wife had just been to Spain for laser eye surgery and they combined her treatment with a week in the Sun. "He said the treatment was only about a third of the price if you went abroad," remembers Pam. A couple of days later, Pam did an Internet search and found that a hospital in Budapest was offering the type of surgery she needed. "I have a cousin in Budapest that I haven't seen for 5 years and I had the brilliant idea of combining a visit to her with the surgery. I quickly did a calculation that I could save about £1500."
Pam arranged with work to steward on the flights to and from Hungary, but to stay there for a week. "It took very little trouble to arrange and my cousin met me from the flight, ready and waiting to take me to her house for the week, so I didn't even have to pay a hotel bill," says Pam.
The Sopron Elizabeth Hospital
After spending the afternoon and evening and first night at her cousin's house, Pam was driven to the Sopron Elisabeth Hospital, about 90 miles away, early next day to have an initial consultation with the surgeon. "The town of Sopron is gorgeous – just at the base of the Alps and quite close to the border with Austria. The hospital is a teaching centre attached to the Medical University at Debrecen and the facilities were very impressive. I can't say that I felt sorry about not being in an NHS hospital!"
The meeting with the surgeon, who spoke excellent English, lasted just under an hour and he arranged for the laser surgery to be timetabled for the next morning. "My cousin and I had arranged a cheap bed and breakfast in Sopron for that night as I didn't need to stay in the hospital," says Pam. Both had a great meal and strolled around the old Baroque town before settling down in their room in a quaint but spotless guesthouse.
Laser Surgery
Pam had her treatment as a day patient and planned to return to Budapest later that night for the rest of her break at her cousin's house. "I still was treated to a tour of the facilities though and if I ever had to have surgery that involved staying in hospital, I would definitely come back here," says Pam.
The hospital, which has 519 beds in total, has a maximum of 4 beds in each ward and hygiene is a major focus. "You can ask for a private room if you want and it is more like a hotel. I also saw that they clean each mattress at room changes – its not surprising that Hungary has a very low incidence of MRSA," adds Pam.
"I was really enjoying the experience but then came the nitty gritty and I found myself lying in the operating theatre feeling a bit nervous. But I hardly had time to think about anything and the surgery was over. I thought my eyes would be blurred or sore – the surgeon said I might be able to see well straight away, but I wasn't convinced."
However, Pam found that as she was raised to a sitting position she could see everything around her with absolute clarity. "Over the next day, there maybe was a slight improvement but I was amazed. After years of peering and squinting and fiddling with reading glasses I could see as well as I did at 20!" says Pam
You might also like...