The Benefit of the Private Sector to the NHS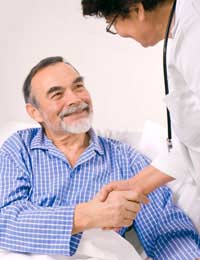 There are a vast number of reasons why someone may opt to receive their treatment in a private hospital or clinic; these reasons may include the location and surroundings of the hospital, the availability of treatments, because the NHS won't fund certain operations to shorten the waiting time, or because of an alternative explanation.
The Hospital
It is no secret or mystery why private hospitals seem to be cleaner and better maintained than those in the NHS. The general public fund the NHS and if the money was spent too much on the surroundings instead of vital equipment, staff or other factors that would more greatly benefit the patients, there would probably be a lot of complaints.
However the private sector hospitals and clinics and a lot more recently built so appear to be in a better condition. The companies can also allocate a certain amount of money to maintaining the buildings and their appearance.
Inside the hospital clients are allocated a private room with their own en-suite most of the time and there is always enough staff to care for each person adequately as the hospital can limit the number of admissions it takes at any given time.
The menu options offered to patients are generally of a better standard than the NHS, again because of funding not only for the budget of purchasing ingredients, but the amount of staff and their training who are working in the kitchens.
Availability & Access to Treatments
Some people may opt for their treatment because the NHS hospitals in their region do not offer the same services concerning access to equipment or carrying out requests. The NHS simply cannot afford to permit every request that a patient may have, but the private sector can usually facilitate requests as they can charge per procedure or treatment.
Funding Issues
For many patients the issue of funding may necessitate them seeking treatment from the private sector.Those wanting to enquire about cosmetic procedures will find that most often these are not funded by the NHS unless it can be demonstrated or proved that it would seriously benefit the patient's quality of life.
Breast augmentations, facelifts, tummy tucks and other such operations can be paid for by the patients on an as and when basis.
Some people may have already received their treatment in the NHS but have found that they can no longer be allocated funds to continue their treatment. This is common in fertility patients who cannot continue treatments indefinitely. Once they have received their treatments that have been permitted by the NHS, they must pay for further treatments is required even though the treatment may still be carried out in an NHS hospital.
Waiting Lists
One of the most common reasons (and the biggest benefit to those in pain or discomfort) for seeking private treatment is to reduce the time they have to wait between their first consultation and actually having their treatment or operation.
Although the NHS are trying very hard to reduce these times, with a growing and aging population this can be difficult to achieve.The private sector have fewer patients than the NHS so they can keep the waiting times fairly short.
Insurance
As many people now receive private medical insurance as part of their employment benefits package, they may wish to use this policy when they need treatment even if they wouldn't have if they had no such employment benefit.
Infections
With hospital acquired infections increasing every year. The fear of transmitting such an infection may cause a person to seek treatment in the private sector as the incidence is lower in this area.
There are several reasons for this, and it is not guaranteed that a person is immune from infections whilst in a private setting, but the risks have so far been proved to be lower which can be as big a benefit as any other.
Some of the reasons why a person may wish to have their treatment in the private sector have been highlighted. Each person is an individual and will have their own reasons for selecting private healthcare for their medical needs.
You might also like...